What is the purpose of your MarTech Stack?
That's a good question to ask yourself before you build one, but also before you start adding a variety of apps to augment your processes and better enable your talented sales and marketing staff.
Most people start with a vision of how they will use technology to achieve their goals, typically:
We want to make it easier for our prospects and customers to find us and get what they want
We want to be more efficient in both sales and marketing to improve response time, reduce missed opportunities and increase close rates
We want to enable our teams to view and analyze results and make improvements
Nothing wrong with these goals. In fact, they are spot on. And there are plenty of more granular goals you probably need to achieve in order to compete these days.
The problem is, deciding which technologies to use, and how to make them "talk" to each other. After all, according to Chief MarTech, there are over five thousand "apps" to choose from.
So the first two problems to address are:
What functions do I need to optimize my sales and marketing processes?
Which applications do I need to perform those functions?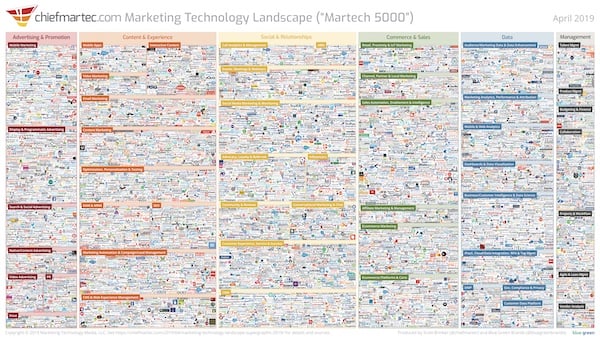 You have your work cut out for you evaluating all of the options available in Chief MarTech's intimidating marketing technology landscape. If you have well-defined processes in place and do your homework online, you can at least narrow down the field to a few front runners in the main categories, such as website CMS, CRM, marketing automation, email marketing, sales outreach, digital advertising, content marketing, SEO, paid search, social media marketing, event marketing, video marketing, webinar management, and e-commerce. Then there are a few more specialized things like ABM, conversational marketing, analytics, and dashboards...
Whew! How's that budget coming along?
More to the point, even if you can afford all of the tech solutions you would like to use, how do you orchestrate them to create a virtual symphony of information that will allow you to reach those hallowed goals for sales and marketing?
The Connection Revolution
Fortunately, you do have some increasingly attractive options for dealing with the complexity of information flow in today's modern MarTech stack.
PLATFORMS - we used to call these "all-in-one solutions", but "platform" is now the term of art. Salesforce and HubSpot come to mind, along with relative newcomers like SharpSpring, Infusionsoft, and ThriveHive, in providing nearly all the tools most companies need in one user interface. The advantages of platforms like these include simplicity of use, one source for support and training, and at least some cost savings over single product licenses across diverse applications.
CONNECTORS - a.k.a, integration platform as a service, or iPaaS - you choose the applications you want, and they talk to each other, at least in some way, via APIs and/or third party connections available through services like Zapier, Tray.io, Automate.io, Piesync (now HubSpot), IFTTT, Mulesoft, and more.
EMBEDDED CONNECTORS - some of the more popular platforms, like HubSpot and Salesforce, include ready-to-go connectors for basic integration with sensible partner vendors for a variety of sales enablement, conversion optimization, email, and reporting applications.
All of these solutions attempt to make it relatively easy to use your favorite MarTech apps, instead of forcing you to choose one vendor or moving data back and forth manually and wasting valuable time.
What they don't do well is integrate!
What exactly is integration?
Well, imagine a perfect world in which you get to design the MarTech stack you want and all of its components and functionality. Everything operates from a common, consistent set of customer data, and all data is available to any crazy experiment your team wants to try. You can effortlessly create targeted campaigns across any and all marketing channels, quickly create customized reports, and develop analytics that shed light on who your customers are, how to reach them, and how you are doing relative to goals. You don't have to worry about errors or inconsistencies in the data, because it's all taken care of by the system. Your sales reps can focus 100 percent of their time on engaging with ideal customers and real customers, without worrying about finding, formatting and fixing things. In this perfect world, all of the sales and marketing functions operate from a "single source of truth", and they operate together towards a common purpose - generating new revenue and retaining/upselling existing customers.
This is what I call "integration". Everything works together at the software level, the data level, and the user level. It's easy, complete and flexible enough to adapt to today's (and hopefully tomorrow's) sales and marketing challenges. So where are we in this ideal universe of MarTech integration?
Let's put it nicely. We're "exploring".
There are both high-end and relatively low-budget solutions that do at least some of this integration, and most of these are targeted at companies with relatively limited needs. At the high end, HubSpot marries sales, marketing, and customer service data and commonly used applications like CRM, marketing automation and customer service using a well-designed user interface and free, robust training available online 24/7. Marketo works similar wonders in marketing automation and is often paired with Salesforce for CRM. Both provide a really good start towards integrating functions and data. On the other end of the budget scale, ActiveCampaign, Klaviyo, and Sharpspring provide much of the same functionality as their brethren at the high end for SMBs and startups. I won't review these options in detail, because you can easily do this here.
So what's missing?
Now, let's go back to the imagination section and think beyond the big three - website, crm, and marketing automation. What else do companies want (and buy) these days?
Sales acceleration - think SalesLoft, Outreach, Drift, Gong, Chorus.ai, CallRail, and more
Sales enablement - Seismic, Highspot, Showpad, MindTickle, and more
Content marketing and analysis - Google Analytics, SEMRush, Uberflip, ContentStudio
Video platforms - YouTube, Vidyard, Wistia, Vimeo
Advertising campaigns - Google Marketing Platform, Criteo, Basis, Adroll, Smartly.io
ABM management - Terminus, Engagio, DemandBase, Triblio, 6Sense
Third party intent data - G2, ZoomInfo, TechTarget, Bombora, Everstring, IntentData.io
Conversion rate optimization - Unbounce, Evergage, Hushly, Hotjar, Crazy Egg
E-commerce - Magento, Shopify, Square, Stripe, and more
Dashboard reporting - Tableau, Domo, Klipfolio, Qlikview, Databox
And plenty more...
You get my point - there are a lot of apps that we want to do very specific things beyond the big three, and the more sophisticated your marketing becomes, the less likely it is that your integration dreams are being realized.
Yes, many of these apps have API connectors, or even embedded connectors, with major platforms like Salesforce and HubSpot, but there is currently little, if any effort by any of them to consolidate data, resolve inconsistencies, or otherwise make life simpler for the user. They just connect.
Then, it's up to you to figure out what to do with the data.
Is there a better mousetrap?
Customer Data Platforms (CDPs) are the current state-of-the-art in customer data integration and process automation for sales and marketing. In a nutshell, a CDP serves as a data hub between all of your inputs and outputs and allows you to combine all types of relevant data at the customer or account level, segment data based on analytics, not conjecture, create appropriate campaigns and actionable lists, and orchestrate them automatically to produce desired results. A CDP takes the worry (and much of the unnecessary effort) out of trying to use a marketing automation platform or CRM to accomplish these tasks.
Should every company invest in a CDP?
Probably not. While the CDP software space is competitive, generally solutions are more expensive and require more internal support than small companies can afford. I would say you need at least one dedicated data scientist or data manager to implement, support and use the CDP software. The more complex your needs, the more warm bodies you will need.
When is it time to invest in a CDP?
In general, when the pain and cost of managing and orchestrating your data exceeds the return you get from using your current setup. Some common symptoms include:
You're investing a ton in data, but you don't know how to use it effectively
You think you're missing opportunities, but you're not exactly sure what they are
You're constantly hiring consultants to fix and backfill data and software problems
Your marketing campaigns use a variety of channels, but you don't know how to coordinate, analyze, and optimize them
Your sales people don't use even a fraction of the data that's available to them
Your prospects and customers complain about receiving irrelevant or irritating emails
Your advertising campaigns are ineffective, but you don't know why
Your senior management wants specific reports you don't know how to deliver, or it takes you way too long to prepare them
To be fair, you may find solutions to most of these issues in your current MarTech stack. There are plenty of good consultants and agencies positioned to help you do that. For companies looking for a more permanent, scalable solution, a CDP may be a better way to go. As I mentioned earlier, we are still exploring the boundaries of what's possible and what's available in our quest for true integration. We're not there yet, but I expect that we will be soon.
Photo by frank mckenna on Unsplash