TL;DR - Intent data is a tool for technology demand generation. It's effective and continues to grow. The right data, which often means including contact details and granular context, enables a wide range of additional use cases. Public Relations (PR) and media relations are examples. Intent data can support revenue growth at PR agencies and enable amazing results for creative in-house media and communications teams too.
Looking Beyond Demand Generation and New Logos
Intent Data has a reputation problem. Most people who are familiar with it think of it as a demand gen tool mostly applicable for teams that are chasing new logos.
That's understandable. That's the low hanging fruit. Knowing who's active in the 3% of potential buyers currently in market makes marketing and outbound sales more focused and efficient.
Additionally, most 3rd party intent data is only account level information. Therefore, use cases across the customer lifecycle are impractical. After all, simply knowing that some people within an organization of hundreds or thousands is thinking about something, hardly makes it actionable.
Contact level™ intent data enriches options for demand generation and opens up other use cases for intent data for marketing and sales. Interesting examples include competitive intelligence (CI), corporate development insights, and new angles on public relations.
Using Contact Level Intent Data for Public Relations
Revenue Growth for PR Firms
PR firms operate in a competitive space. There's frequent churn in a largely zero-sum space and often rely on willing new accounts to thrive. So intent data provides PR firms a powerful tool in its common demand generation use case.
Imagine being the rainmaker in a PR firm and knowing which companies are taking action online around executive presence, crisis communications, PR, corporate social responsibility (CSR) and related topics. It's like discovering revenue growth gold in a brutally competitive market. It offers the person looking for client prospects a major advantage. With contact level data, business development folks know who's active and have context around the competitors they're engaged with. Additionally, they have the contextual details of the problem they're trying to solve or the outcome they seek. That insight enables personalized and effective messaging.
This information is also a potential differentiator and focus of additional services which PR firms could use to win business, secure more valued media opportunities, and increase revenue around innovative and unique services for clients.
In-house PR Teams
Let's put PR firms aside for a moment. Companies can use contact level intent data to fuel their own media relations efforts. Internal marketing, communications and PR teams can use it in various ways:
Monitor media interactions with competitors
Supplement media scans and Google alerts around key topics of interest and exposure
Identify media engagement around topics and themes that they want to target in the news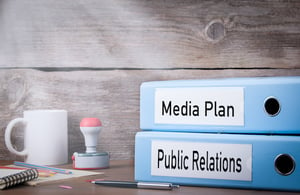 As an example, a customer of IntentData.io is active in the food packaging space where the subject of plastic has recently become a buzz topic in the media. Contact level intent data allows this company to monitor which outlets and journalists are active in this space. That's good for background awareness of activity and sentiment, but there's an explicit opportunity as well.
The company provides paper packaging alternatives that can replace plastics in many cases. While this capability isn't necessarily of interest to their most common plant and operations contacts, it's of enormous interest to corporate marketing, sustainability, and executive teams as well as independent directors. PR efforts, guided by intent data are helping them reach general business journalists who cover this topic and are reaching readers well beyond trade press. It's targeted, inexpensive and effective and is helping them reach important decision-makers and influencers who they've not typically engaged with in the past.
Enrich the Pitch for Better Results
The media relations efforts in PR is actually pretty similar to outbound sales. Tireless email and phone outreach is required to connect infrequently with journalists at just the right time - when they're open to ideas, thinking about a topic, and looking for sources.
There's a lot of effort put into crafting compelling pitches with attention to subject lines and personalization in concert with social engagements and an understanding of what's in it for busy journalists.
That sounds pretty similar to most outbound sales, right? Swap prospect for journalist and that's the BDR's world.
The same insights which make contact level intent data particularly valuable for effective sales operations, therefore, can support public relations and media outreach too. Call it a Predictive™ Media Scan.
By understanding what topics and competitors a journalist is engaged with, savvy PR and media relations folks can craft really effective pitches. They can even personalize pitches at scale using inferences and contextual insights gleaned from intent data.
Know that a journalist has engaged with an industry expert on a topic? And know the angle they often cover? Build on that with the complementary or alternative angle that's important to your company. See lots of journalists engaged with a competitor? You might speculate about upcoming, embargoed announcements that you'd want quickly react to. Or have an innovative answer to a vexing problem (like paper or plastic?) Then put it in front of the right media at the right time.
And in all cases, you'll be able to craft your pitch in a way that's much more likely to resonate than your vanilla or best guess versions.
Media Relations is One Example
Using intent data for PR, as a tool for agency growth or a tool for better media relations effectiveness, is an interesting application of data that's not frequently discussed.
But it's just one.
There are three important conclusions.
First, the intent data provider you select will limit or enable various other use cases beyond the simple account prioritization for ABM and demand gen that's common with most third-party intent data.
Second, leveraging data across the entire enterprise probably requires c-suite engagement. As cool as it is in marketing, it's not likely to appear on the radar of other functions and departments unless there's an explicit effort to socialize the knowledge and capabilities. (Learn more in my recent article on the OpenView blog.)
Finally, keep in mind that intent data isn't just for technology and SaaS sales. It has application in various industries.