Tl;dr - Bidstream data is a common form of purchase intent data. It's sold directly and embedded in various platforms. But insiders have raised concerns for years, and now it's on the radar of the US Senate Committee on Finance. Here's what you need to know.
Vaporware Was Bad Enough - Now It's Noxious (Maybe Toxic) Vapor!
On Friday, a group of U.S. senators led by Senate Finance Committee Chairman Ron Wyden (D., Ore.) sent a letter to the largest companies running these (programatic advertising) auctions...

asking them what steps they take to make sure companies joining the auctions do so for the sole purpose of buying ad slots....The information gathered during the ad-auction process—known in the industry as "bidstream" data—can be packaged by data brokers, which resell it to companies and governments....Many companies accessing user data during auctions do so under contractual agreement that they won't use the data for any purpose other than bidding on and delivering the ad. In the letter, the senators asked the ad-auction companies how they enforce those contractual restrictions, and requested a list of all companies to whom they had provided data in the past three years who weren't under such restrictions. WSJ (italics ours)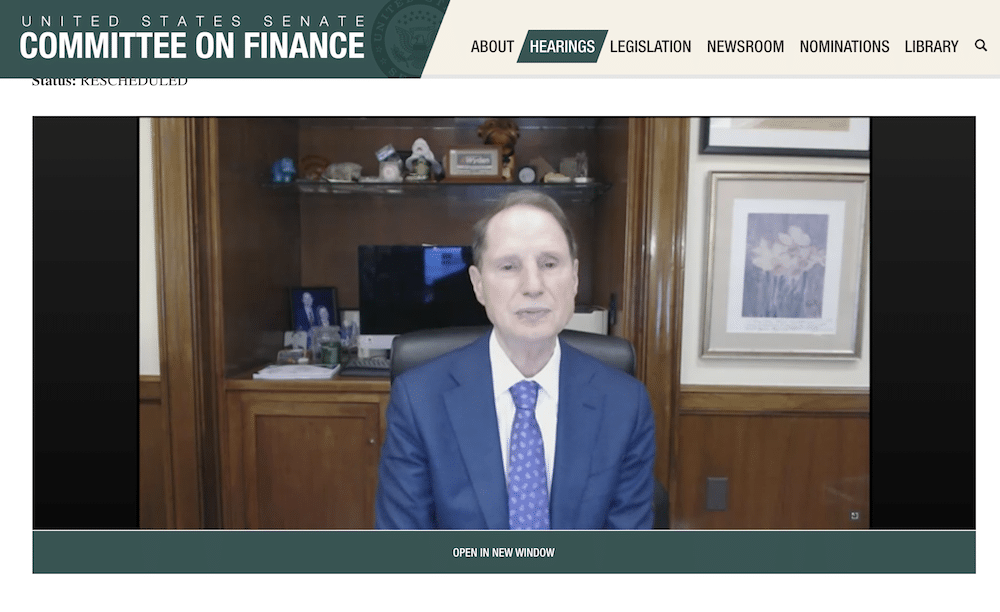 Senator Ron Wyden, Chair of the Senate Committee on Finance (image from the committee website)
We've covered bidstream data generally for some time - striving to be objective and provide information to help each company understand data and pick the model that's right for them. Bidstream is one of the primary methods the industry uses for intent data collection. It tends to be high volume and low accuracy. It's built on a problematic series of assumptions - that the ad someone is shown properly matches the content adjacent to it (which we know isn't true because of angst about ads near questionable content!); that the NLP accurately understands the content adjacent to which the ad is shown; and that the fact that the person stumbled across that content (and had the ad flashed) is indicative of purchase intent. Speaking frankly, many consider it vaporware - although several companies sell large volumes, at handsome margins, to many clients.
Additionally it's account level only data.
On the plus side of the ledger it covers a much broader swath of the web than the limited publishing coop model and it can deliver data with keyword level detail (vs. opaque topic taxonomies.)
The bigger consideration, though, is data propriety. This has been highlighted by various industry experts including Shashi Upadhyay the former CEO of Lattice Engines, Bombora in its suit against ZoomInfo, and TechTarget's co-founder Don Hawk.
And that potential Achilles Heal of data propriety is suddenly a higher profile question as the Senate Finance Committee is digging into it.
So what should companies understand about the bidstream data propriety (legality?) question?
Know Your Data Source - And the Implications
The first step is to be clear what type of intent data you're working with. That may not be straightforward. The only company which boasted of a bidstream based model was Aberdeen (when they published "research" after their purchase of Big Willow) which in turn was purchased by Spiceworks Ziff Davis (SWZD) in late 2020.
What about the rest?
Obviously we're not privy to the internal machinations of an of these products. These observations are drawn from publicly available sources as noted/linked below.
On a page updated 6 months ago, Demandbase notes that it "uses its publisher/advertising network to observe what types of content company employees are reading."
Bombora's lawsuit, mentioned above, seems to indicate that they believe ZoomInfo relies on bidstream data. And ZoomInfo's new intent data product announcement said "ZoomInfo gathers intent data from a variety of sources."
6Sense's site notes in various undated posts (a bit hard to establish chronology) that it uses "billions of time-sensitive intent interactions" (terminology often associated with high volume bidstream data) in its AI modeling and clarifies that "6sense is a custom-built DSP". (This is a technique sometimes used by data companies to observe the programmatic auctions for the purpose of collecting data.) It has announced several partnerships with Bombora (which is NOT built on bidstream data) including in 2015 and 2020. It also offers the following comment which seems to focus on EU related data:
We do not utilize EU-based data from AddThis and we do not utilize any form of bidstream for our intent data and therefore the online debates about EU intent data from these sources do not impact our services.
This list includes companies that are respected, established, in some cases publicly traded, and in others privately held and handsomely funded. Presumably investors (whether public or private) have done due diligence and understand risks, including regulatory exposure. Indeed it's possible that the warnings about bidstream are simply competitive positioning and the new regulatory focus is the proverbial tempest in a teapot.
In any event, every company using intent data should ask explicit, probing questions around the use of bidstream data, how data is harvested, whether there is data from public or private DSPs used (internally in processes and/or as a byproduct embedded and/or for resale,) and other questions to be comfortable that you have a clear picture. And even if intent data is ancillary to the primary product (e.g. a piece of a complex account engagement platform) it's still an important set of questions to ask.
Understand Purchased Platform Embedded Data
It may not be enough to just ask direct vendors. Often platforms embed purchased intent data products into their models. This is particularly common in ABM (account-based marketing) products.
In some cases they are explicit. Terminus, for instance, embeds Bombora's Company Surge® third party data combined with G2's second party data. In fact, they have explicitly and forcefully about the potential "illegality" of bidstream data.
Similar to Terminus, Triblio also uses Bombora's third party Surge product and plans to add second party data from IDG.
ZoomInfo's partner program lists companies that incorporate ZoomInfo's data into their platforms including RingLead and campaignstars.
If you're stepping back to understand intent data exposure, don't forget about these third party embeds. It's going to take some digging and research to determine what intent data products are embedded in your various platforms. Your vendor may not know - you may have to go to the source, but since you're not a direct client, and this is a topic of increasing profile, your inquiries might not be welcome.
Also, be sure to consider outside marketing qualified lead (MQL), opt-in lead, or qualified meeting setting services. Many use intent data in their movements. Certainly you have a degree of separation since they're the ones using the data, but consider two points. First, if you know about it or reasonably should know about it, does that expose you? Second, if you rely on that service, and bidstream experiences a sudden and abrupt crisis, how will you fill your pipeline on short notice?
And one final note - don't confuse these with enrichment data which is a very different animal. HubSpot "Business Insights" and Clearbit are examples of enrichment which is quite different.
Make Risk Judgements Proactively
Once you've done your research, what should you do if you find that you're relying on bidstream data directly, or indirectly through an embed?
First, decide how you'd feel if your brand appeared in a news story about a problematic product/service being investigated by the Senate Finance Committee (and is your brand prominent enough to make the list of several that would be included in an article?)
Second, ask whether competitors might leverage the news to create credibility and propriety questions for your company.
Third, consider whether prospects/customers would feel jaundiced or betrayed if they learned you used this product? Would that be consonant with your brand image?
Fourth, weigh the impact on internal morale if your employees discover you're using, and continue to use, a problematic product.
Then decide from there how urgent an issue it is.
You might be using an ABM platform which is integral to your go to market strategy which has embedded bidstream data and be obligated for several more years on a lengthy contract. You might just have a multi-seat bidstream data contract which won't expire for almost a year. The former would be a complex business decision - how could your recreate the data orchestration capability of the platform with your own data selection for instance. The latter might be easier - simply walk away based on newly learned information.
But you have to decide - ideally preemptively, before situations arise.
Bottom Line on Bidstream Data
Whether your asking "What is Intent Data?" for the first time, or a veteran user who's built sophisticated models for propensity to buy, churn reduction and demand generation, it's important to understand the details of the data upon which you rely. Know the inherent benefits, challenges and exposures - whether you're buying it directly, know that it's embedded in another product, or might be blissfully ignorant that it's tied into services you buy.
Maybe Senator Wyden's inquiry blows over. Maybe it doesn't.
Either way, industry insiders have been raising this topic for years. Prudent business people should make informed decisions.